About Us: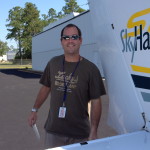 Sky Chiefs Aviation is an economic, full service flight school located at Williston Municipal Airport (X60).  Williston is conveniently located 20 minutes from Gainesville and Ocala and close to the University of Florida and Sante Fe College.
Founded by Chief Flight Instructor, Ryan Foote, with the sole purpose of helping you achieve your flying goals.  Ryan is a career flight instructor who has been instructing since 2004 and loves to teach people to fly.
Online Schedule:
Sky Chiefs uses Flight Schedule Pro (FSP), which is an online scheduling system.  Through this system you can schedule all Aircraft and Instructor time.
If you are already a registered user, you can click on HERE to access FSP.

If you are a NEW USER for flight training or rentals click on the Wings Button and you will be able to register for FSP.  This is not a link for scheduling Discovery Flights.  Please use inquiry form, email or call.